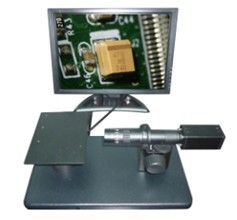 Product Function Description:

The microscope is configured with 1.3M HD industrial camera. VGA image output interface, can be connected to the computer and monitor directly. clear and vivid image, image freeze, auto exposure, dual cross lines , 8 mobile cross lines, color is variable, convenient observation and positioning. Camera is equipped with remote control panel, which makes the operation much easier
Product Main Parameters:

Microscope Configuration: 0.7 - 4 .5X zoom body, 0.5X coupler, 1X objective lens (standard)
Monitor: 15 inch color monitor, Resolution: 1024 * 768
Camera: 1.3M VGA camera, eight cross-lines.
Output Interface: VGA interface, dual cross lines measurement.
Magnification :23-140X (changeable according to customer's need)
Stand Type: 10A horizontal stand.