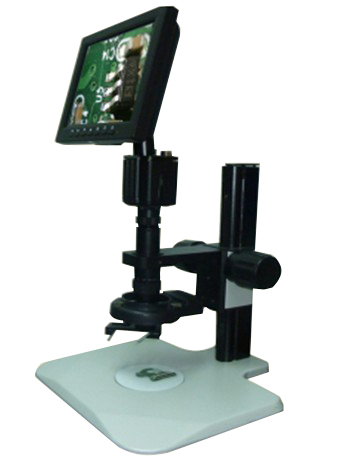 Product Function Description:

High-resolution CCD sensor, built-in analog/digital converter, analog and digital signal directly display on the screen, can also simultaneously display on TV and computer through corresponding interfaces; taking photo and video through software; easy operation, reducing user's fatigue and injury.
• 3D Rotary Observation
• Chinese and English operating software, high-speed USB2.0 interface, up to 480Mb/s
• Static image capture (JPG, BMP, GIF) and dynamic AVI image capture
• Image: 720X576, 1440X1152, video: 640X480 (25f/s)
• Software supports exposure time, chromatic aberration, brightness, contrast, saturation, etc image enhancement functions
• High quality image
• Support DIRECT SHOW, VIDEO FOR WINDOW, MSN, etc.
• Support Windows 2000 and XP operating systems.
Product main parameters:

Microscope configuration: 0.7-4.5 zoom body, 0.5X coupler, 0.75X lens (2D/3D)
Magnification: 9-60X
Working distance: 100mm (2D), 50mm (3D)
Monitor: 8 inch color monitor, resolution: 800 * 600, OSD menu, with cross-line function
Digital Camera: 1/3 SONY CCD chip, 2.0M pixel resolution, with SD card storage
Output interface: Video BNC, USB2.0
Light source: high brightness LED ring light
Stand: 39mm track stand